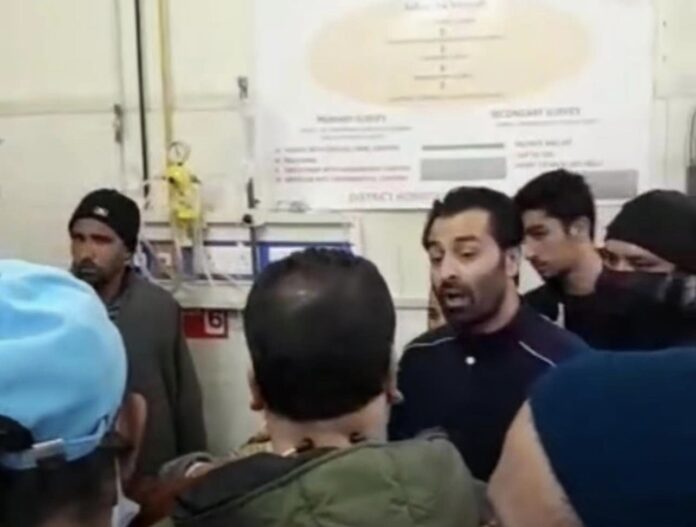 Srinagar, Mar 03: A case has been registered against Municipal Councilor Chairman Pulwama over his alleged misbehavior with a doctor at District Hospital Pulwama earlier this week.
A doctor at District Hospital Pulwama told that the police registered a First Investigation Report (FIR) against Municipal Council Chairman Bilal Ahmad Rather over 'misbehaving with a doctor at District Hospital (Pulwama) on February 27, during evening hours'.
"On 27-02-2023 at around 6.30 pm, a man namely Bilal Ahmad Rather, who is chairman of Municipal Council, barged in the duty room of a doctor who was on duty in the emergency department of the hospital. As soon as the person entered the hospital, the person started shouting and barged into the duty room of a doctor. He made a huge hue and cry and misbehaved with the doctor", the doctor reading out the FIR copy said.
"There were many sick patients in the hospital at the time when the person made his entry into the hospital and the person shouted & hurled abuse at the doctor and was in a very aggressive mood. He was about to assault the doctor and wouldn't have managed to stay away from this person.
Meanwhile he obstructed the doctor who was discharging his duties towards his patients and made ruckus in the casualty department and was asking for a lock and key to lock the hospital, as seen in the video footage which created disruption in the patient care and could have caused death or serious complications to the critical patients admitted in the hospital", the doctor said.
The doctor said, the police were requested to take cognizance of this episode in light of the video footage which has gone viral on social media, so that such ugly incidents don't happen which will affect the safety of doctors besides working in hospitals and patient care.
"Taking cognizance of the incident, the police accordingly registered an FIR under sections 353/506 IPC in police station Pulwama against the accused", the doctor further said.