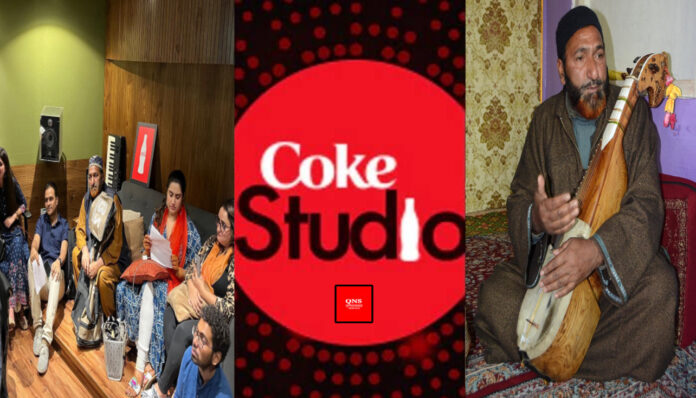 Srinagar, Mar 04: Popular Kashmir singers and musicians Noor Mohammad and Muhammad Muneem are set to feature in the upcoming edition of the Coke Studio.
Coca-Cola has announced the launch of 'Coke Studio Bharat' in Mumbai. The season is an amalgamation of over 50 artists from across the country who have come together to create over 10 memorable tracks celebrating the roots of Bharat.
The current season features celebrated artists and musicians like Amira Gill, Achint, Aditya Gadhvi, Arijit Datta, Amaan and Ayaan Ali Bangash, Ashima Mahajan, Armaan Malik, Bombay Brass, Burrah, Charan Raj, Deveshi Sahgal, Dhruv Vishwanath, Diljit Dosanjh, Donn Bhatt, Hashbass, Jasleen Royal, Kanwar Grewal, Mahan Sehgal, Mansa Pandey, Maithili Thakur & Brothers, Mohammad Muneem, Noor Mohammad, OAFF & Savera, Osho Jain, Prabhdeep, Rashmeet Kaur, Seedhe Maut, Sakur Khan & Sons, Sanjith Hegde, Shillong Chamber Choir and Tajdar Junaid. The season will also put the spotlight on regional Indian instruments like Algozha, Chimta, Duff, Sarod, Sarangi, Tumbi, and Rabaab.
Coca-Cola has partnered with Universal Music India (UMI) as executive producers for the launch season of Coke Studio Bharat. The first song of the season will be released on February 7.
Arnab Roy, Vice President, Marketing Coca-Cola India, and Southwest Asia says, "Coke Studio, a globally acclaimed platform, has always aimed to celebrate authentic regional music. Musical traditions from multiple regions in India are at an inflection point not only in India but even globally. Coke Studio Bharat connects the truly distinct cultural dots of various regions in the country with artists whose music is defined by their roots. They are the real stars of the season, giving regional music a bigger impetus."
Piyush Pandey, Chairman of Global Creative and Executive Chairman, Ogilvy India congratulated the Coke Studio Bharat team and shares, "Coke Studio Bharat is a fantastic endeavour in making the rich Indian musical and cultural diversity, more seamless and beautiful. It reminds me of the magic of "Mile Sur Mera Tumhara" in the late 80's, where I was privileged to be a part of the creative team.
The magic of multiple languages and change of instrumentation, singing and people created an iconic piece. Today it's an opportunity to move the classical to the 'massical' level, where the masses around the world can enjoy the magic of Indian music. It is music from the 'heart of India, from every part of India'. Bravo, Coca-Cola India."