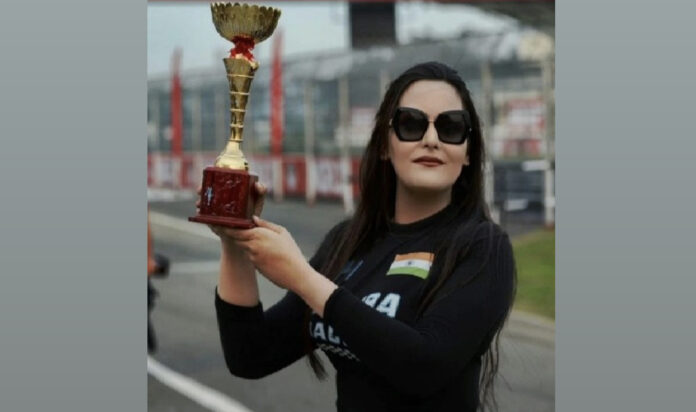 When Humaira Mushtaq is on the racing track, gender always takes a back seat. Competing with a number of men on the racing grid, she doesn't feel isolated.
Bashing the notion that the racing sport is male dominated, for her its driver versus driver and she has to give her best shot.
The first female circuit car racer from J&K, Humaira got into the racing sport in the early years of her life.
"I started karting at 6 years old then moved to rotax, later I moved my way into single seaters & formula racing and I have also done touring cars," she said.
The lone female racer from Jammu and Kashmir has been in the scene of racing from the year 2019 with JK tyres motorsports and then with MRF tyres.
Recently, she secured the podium finish at Madras International Circuit in Chennai making her the first one from the union territory to achieve a podium finish in the first round of the championship.
Sharing her experience of being calm and cool on tracks, she said that she doesn't feel nervous. "Whenever I race, I don't worry or think about the outcomes. I live in the moment and give it my best shot, I put my entire focus on what I am doing at that point of time, this should be the best race I have ever done" she said.
Her both parents were doctors which prompted her to go to medical school and become a dentist.
"My mother has supported me a lot. That was the reason I got into medical school. I told my mother that I want to be a racing driver. As I lost my father when I was 15, my mum being a single parent felt the responsibility of shaping my career. It was not even taken as the career for women back then.
She told me that she will not stop me from doing what I want and even finance the early stages of my career given that motorsports comes with a huge price tag on a condition. If I made it to med school which at least secures a job given what I was looking at was more of a gamble" she said.
However, she doesn't practice medicine but she is more focused on making her career as a racing driver.
Considering her father, the biggest support in her life, she said, "We both were motorsports enthusiasts. He had a huge influence in my life and a sort of motivation which brings me to racing. He was my mentor, my coach and my guide. His last words to me were 'keep going, don't stop racing, become a professional and Allah will help you through. I dedicated my first podium finish to a father who I know would have been really happy."
Racing in the same championship along with the male competitors may raise the eyebrows around her but she believes in setting examples.
"People have the right to say, believe, and think whatever they want and that is none of my business. I believe in giving my best performance and setting examples. My work should speak for me. People don't believe in what you say, they believe in what they see. My focus has always been on my performance and it should not hinder," she said.
She, being a female in men dominated sports, gets her praises and positivity. "People saw me performing and everyone was good to me. Gender, region and other things take the latter when your prime focus is performance. I have never taken it as me vs the boys or men. It's me vs the other driver.
Once my racing gears are on, I am just a freaking driver. If you are good at your job and you know your subject nothing else matters. Moreover, I want to be judged based on my skills and not my gender" she added.
She said that her strong determination has played a good role in shaping her career and made her immune to obstacles and challenges.
"It's easy to follow someone's footsteps or a system or a tradition since the approach is quite generic and standard as things are already laid out, but if you are making your own way of course you do face challenges but I didn't let those break my spirits since I myself signed up for this. It was my own decision and I cherished it. I am never afraid to face my fears. I have been really strong. I am someone who is driven by passion. Generic things bore me," she said.
Humaira believes if you know your subject, there is nothing as male or female dominated. It's all about perspective and how determined you are to reach your goal. If you are willed and skilled, you can do anything, she said.
The track racing, as exciting as it sounds, is also physically straining. Humaira's fitness schedule comes to her rescue.
"The sport is physically very demanding and I trained myself for it. You need to have a strong neck and strong muscles and have a threshold for heat as well. I didn't have a lot of tolerance for heat so I trained myself. I used to wear a sauna suit while working out to get adapted to the heat as the temperature inside the car can rise a lot," she explained.
For a racing driver, staying hydrated is very important. She makes sure that before every race, she gets good water intake. "I take a lot of water and electrolytes. Every single muscle is involved while racing in the car. You need to be very strong since it endures a lot of G forces. One has to go through a set of protocols to ensure a good performance. It's the combination of many factors," she said.
Pursuing a career in motorsports is nowhere as simple as getting behind the wheel and driving off. It costs a good amount of money with huge maintenance and unavoidable expenses.
Her performance in the MRF championship where she won her first podium finish marked the first milestone in her career and she believes that her hard work has paid off.
Talking about her future plans, she is looking forward to represent India in international arena. "Sky is the limit. I am my own inspiration. I only compete with myself and keep working on myself. I realize once you go like me vs me, you become your own inspiration because you keep improving yourself every single day, nothing as great as self-work. These little improvements give me confidence to take bigger steps and go far in life."
The fast and furious driver on tracks, is very careful when it comes to road safety. "It's dangerous putting yourself at risk and also unethical by putting another person's life at risk," she said.
"Karting is the way to go as it's the purest form of driving and it prepares you for circuit racing later on. The race art and race craft of racing you actually learn in the karting phase," she recommends to people who are keen in making a career into motorsports.
She encourages everyone to pursue what they actually want to do. "You can achieve anything you want if you have clear intentions towards your goals. As long as you are not hurting anyone, you are good to go. Nothing is impossible. Dare to dream impossible and work hard, very hard to achieve them," she concludes.