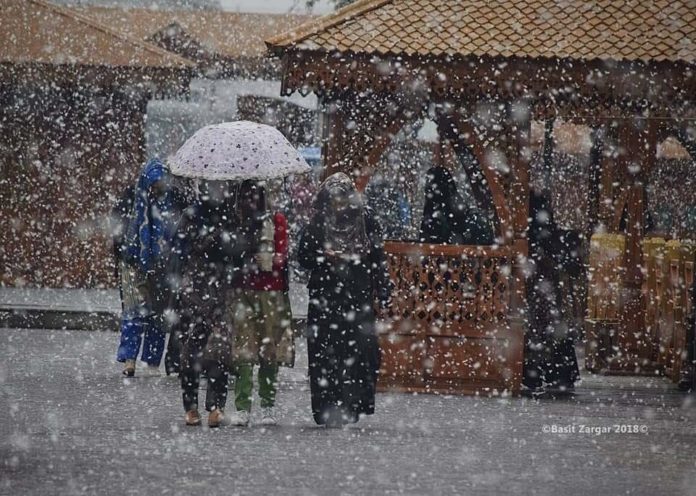 Mughal Road, Highway open; Day temperature to drop
The Mughal Road was re-opened on Saturday for one-way traffic even as Meteorological department predicted light to moderate rain/snowfall at isolated places in Kashmir in next 24 hours (Sunday).
"There are chances of light rain in plains and light snowfall at higher reaches in next 24 hours," director MeT department, Sonam Lotus told Greater Kashmir. 
He said that from Monday to Wednesday there will be light to moderate rains/snow in most parts of Kashmir. "The intensity of this spell will be less as compared to previous one," Lotus added.
MeT director said that in the coming four days there will significant decrease in day temperatures across Kashmir. However, he said that night temperatures will increase slightly.
MeT officials said that Srinagar recorded a maximum temperature of 13.4 degrees Celsius and minimum of 1.9; Jammu maximum 24.4 degrees and minimum 12.3; Gulmarg minimum -3.0 degrees; Qazigund maximum 16.6 degrees and minimum 0.8; Phalgam maximum 13.2 degrees and minimum 1.1 and Kupwara maximum 15.1 degrees and 1.2 degrees.
Meanwhile, the Mughal Road connecting the twin districts of Poonch and Rajouri in Jammu with south Kashmir's Shopian remained open for one-way traffic. The road, considered as an alternate link between Kashmir and rest of the country, usually remains closed during winter due to heavy snowfall.
Superintendent of Police, traffic (Rural), Muzaffer Ahmad Shah said that almost all stranded traffic have been cleared from the road. He said that traffic was allowed from one-side (from Poonch to Shopian) and no vehicle was permitted from the opposite direction.
The road was closed for vehicular traffic on November 3 following heavy snowfall along the high altitude Peer Ki Gali during which over 120 stranded passengers were evacuated in a night-long rescue operation.
Shah said given the prediction of fresh snowfall from November 12 onwards, the authorities are monitoring the weather situation and have asked commuters to avoid travelling on the road during night hours.
SP said that Jammu-Srinagar highway, the only all-weather road linking Kashmir with the rest of the world is also open.